It is our mission at Solve Pest Control to provide the highest quality service possible for our customers. We go above and beyond for every single service for each and every customer. Our technicians are educated and friendly - a pest control guy you won't forget! Solve Pest Control technicians know everything there is to know about a pest before they remove or exterminate it. One of our top priorities is knowledge. Our technicians know exactly what each pest looks like, what it is attracted to, possible damages it can cause, where it nests, how to track it down, and of course, how to properly exterminate it in order to protect your home from future infestation.
We take pride in using safe, simple, smart, and effective pest control strategies at Solve Pest Control. We are the pest control company that will both eliminate pests and keep you and your family safe. We provide our customers with nothing but the best solutions to your pest problems. It's true! Call Solve Pest Control today for the best pest control Chantilly Virginia has to offer!

5

1
2
3
4
New Layer
New Layer
Interior Protection
Eave, Sweep & Dust
Crack & Crevice Treatment
Perimeter Spray
Granular Barrier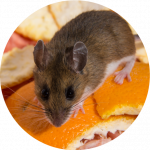 Mice
Causing damage to your home and causing a fright, eliminate mice immediately upon discovery!
Spiders
We exterminate a plethora of spider species.
Termites
Termites don't just come in ones and twos; they come by the hundreds.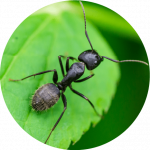 Ants
Making a home inside of yours, ants travel in large colonies.
Wasps
Keep wasps out of your outdoor fun with safe and effective elimination.
Moles
Year-round, moles harm the root systems of garden plants and grass.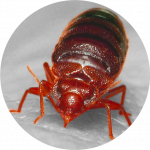 Bedbugs
Hiding in mattresses, pillows, and sofa cushions... Take back your space today!
Centipedes
This 30-legged nasty pest is attracted to water sources.
Our Unique Process
Each time we come to service your home, we tailor your services to the specific needs of your property. We speak to each of our customers face-to-face at the appointment so that when you have questions, we can answer them. We will listen to any concerns you have and ensure that you are given the treatment that your home needs. You can rest assured that you are in good hands when you hire the professionals at Solve Pest Control.
Service Year-Round
When you choose Solve Pest Control to take care of your pesty situations, we will be ready and available for you at all times throughout the year. In addition to the regular services we provide, we will happily come to take care of any additional problems that may arise between regular servicing.
More About Our Work
When you hire the professionals at Solve Pest Control to take care of your pest problems, there are a few things you can expect that go above and beyond your regular pest control expectations. First, our technicians speak to each customer personally when they come to treat your property. They listen to your concerns and answer your questions. Second, Solve Pest Control technicians are incredibly knowledgeable. They understand the ins and outs of all local pests. Go ahead! Ask them any questions you may have!
Quality Services
We offer nothing but the highest quality pest control services at Solve Pest Control. We are here to help year round. Whenever you need us, give us a call, and we will be there to eliminate pests so you can take back your space! Be in control with Solve Pest Control.
Diresctions to Solve Pest Pros Jacksonville FL
Address:
8936 Western Way Suite 8
Jacksonville, FL 32256
Phone:
(904) 701-7500
Hours:
Monday - Saturday: 8am - 5pm
Sunday: Closed